ETAP Real-Time™ technology allows you to predict, control, visualize, optimize, summarize and automate your power system. Distributed and web-based technologies provide the tools to make informative decisions based on planned or unplanned events from any location.

A complete operation solution for continuous monitoring, predictive simulation,
optimization, and automation of electrical system. Model-Driven Real-Time Solutions for Power Systems Modeling, Simulation, Design, Analysis, Sizing, Evaluation, Planning to Real-Time Model-Based Monitoring, Event Playback, Predictive Analysis, Control, Optimization, Automation, Situational Intelligence to Operation.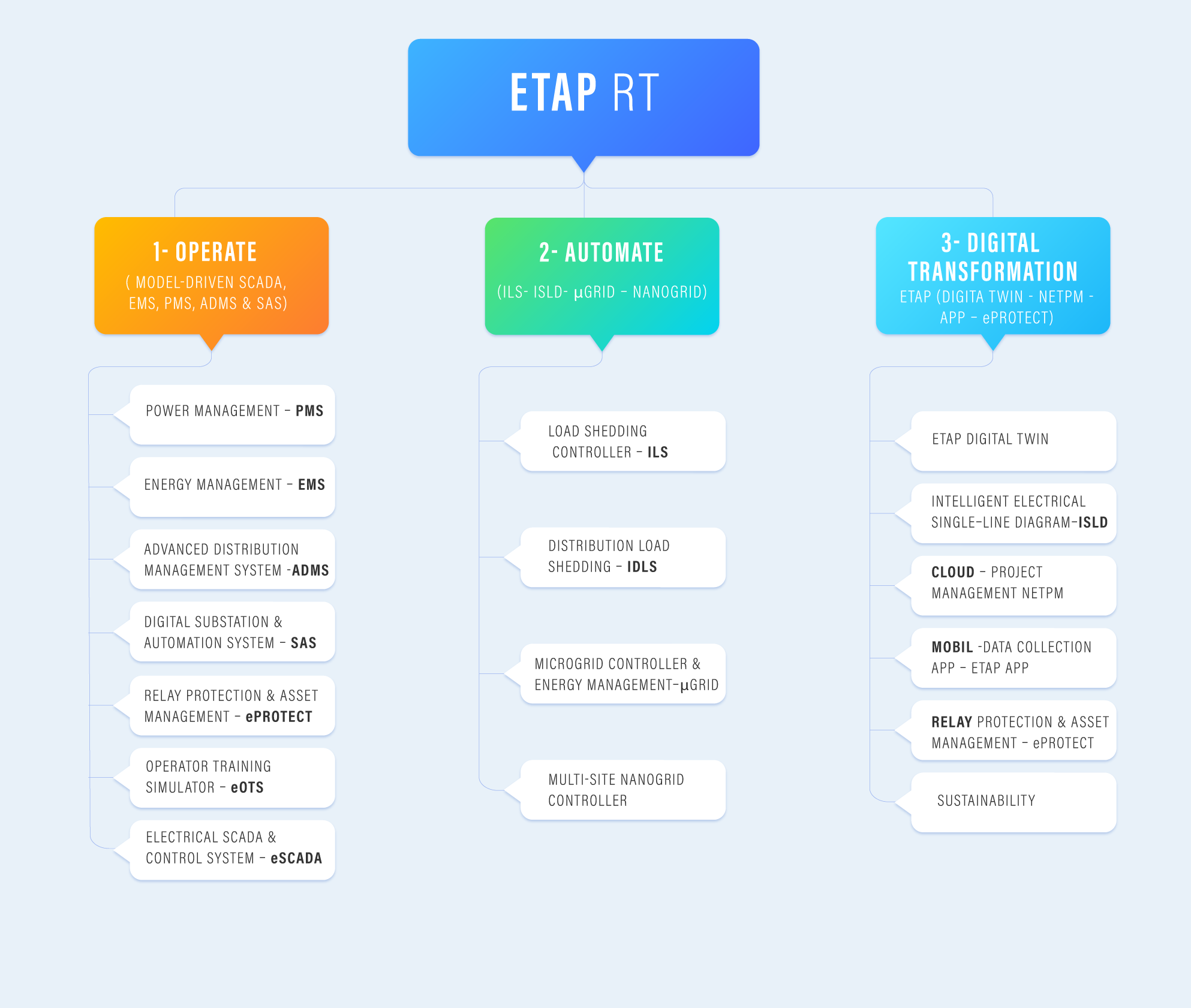 ( Model-Driven SCADA, EMS, PMS, ADMS & SAS)
Power Management – PMS
Energy Management – EMS
Advanced Distribution Management system -ADMS
Digital substation & Automation System – SAS
Relay protection & Asset Management – eProtect
Operator Training Simulator – eOTS
Electrical SCADA & Control System – eSCADA
(iLS- iSLD- µGrid – nanoGrid)
load shedding controller – ils
Distribution Load Shedding – iDLS
Microgrid Controller & Energy Management – µGrid
multi-site nanogrid Controller
3- Digital Transformation:
etap (Digita Twin - NetPM - App – eProtect)
ETAP Digital Twin
Intelligent Electrical Single – Line Diagram – iSLD
Cloud – Project Management NetPM
Mobil -Data Collection App – etap App
Relay Protection & Asset management – eProtect
Sustainability